Wednesday, September 13, 2023 6:34 PM
Punta Gorda Rotary Club Launches Disaster Preparedness Ok/Help Poster Initiative
A big shout out to the Punta Gorda Rotary Club, Punta Gorda Police and Fire Department for the launch of the Disaster Preparedness OK/HELP Poster initiative. Mark was proud to attend the press conference this morning and represent the city he is so proud of.
Pick up free copies of the Disaster Preparedness OK/HELP Poster at:

Punta Gorda Public Safety Building, 1410 Tamiami Trail, Punta Gorda, FL 33950

Punta Gorda Fire Station 2, 2601 Acline Road, Punta Gorda, FL 33950

Punta Gorda Fire Station 3, 1623 Aqui Esta, Punta Gorda, FL 33950

Punta Gorda Chamber of Commerce, 252 W. Marion Ave, Punta Gorda, FL 33950

Punta Gorda Isles Civic Association, 2001 Shreve St., Punta Gorda, Fl 33950
or contact rotary33950@gmail.com for more details.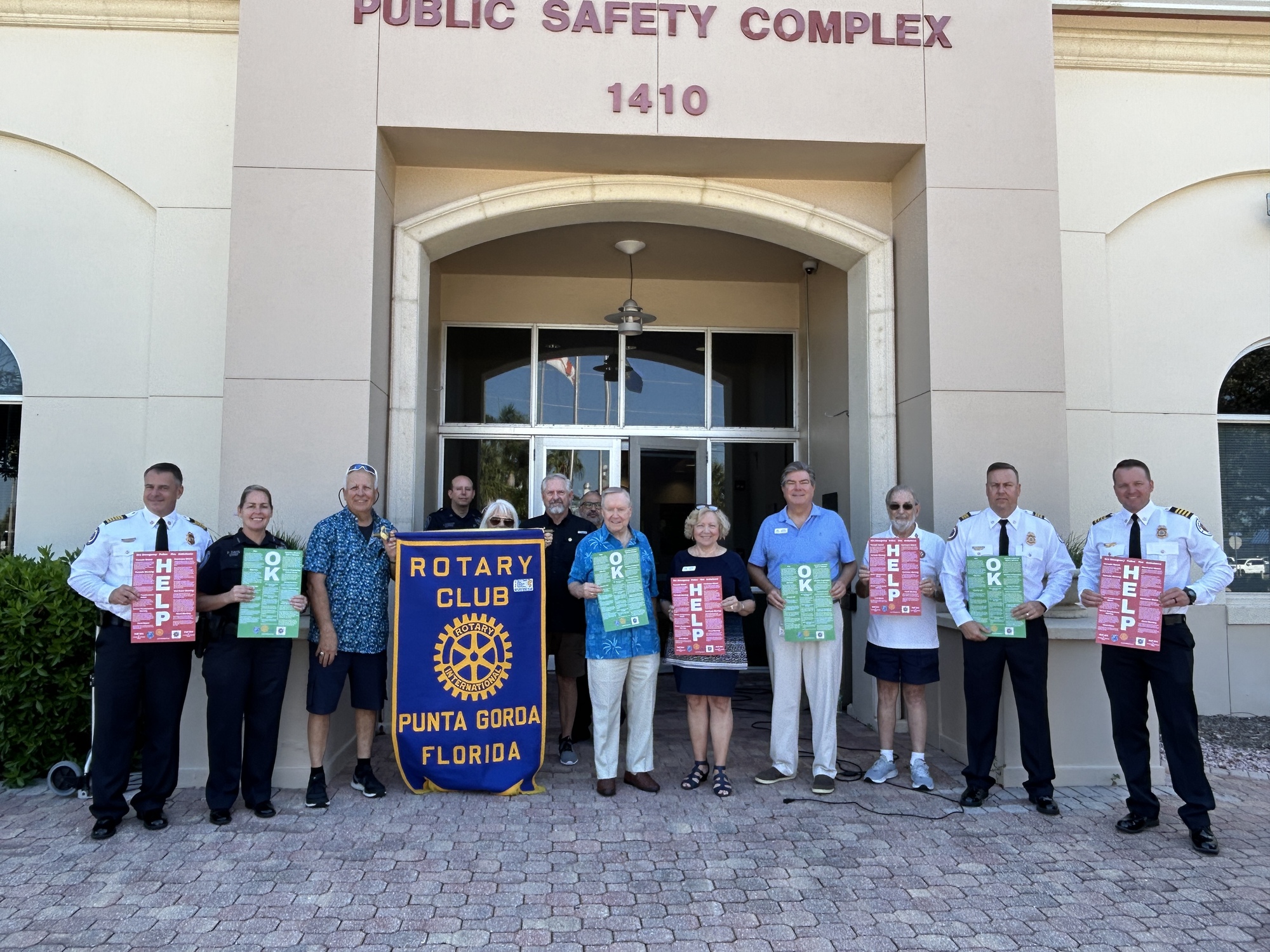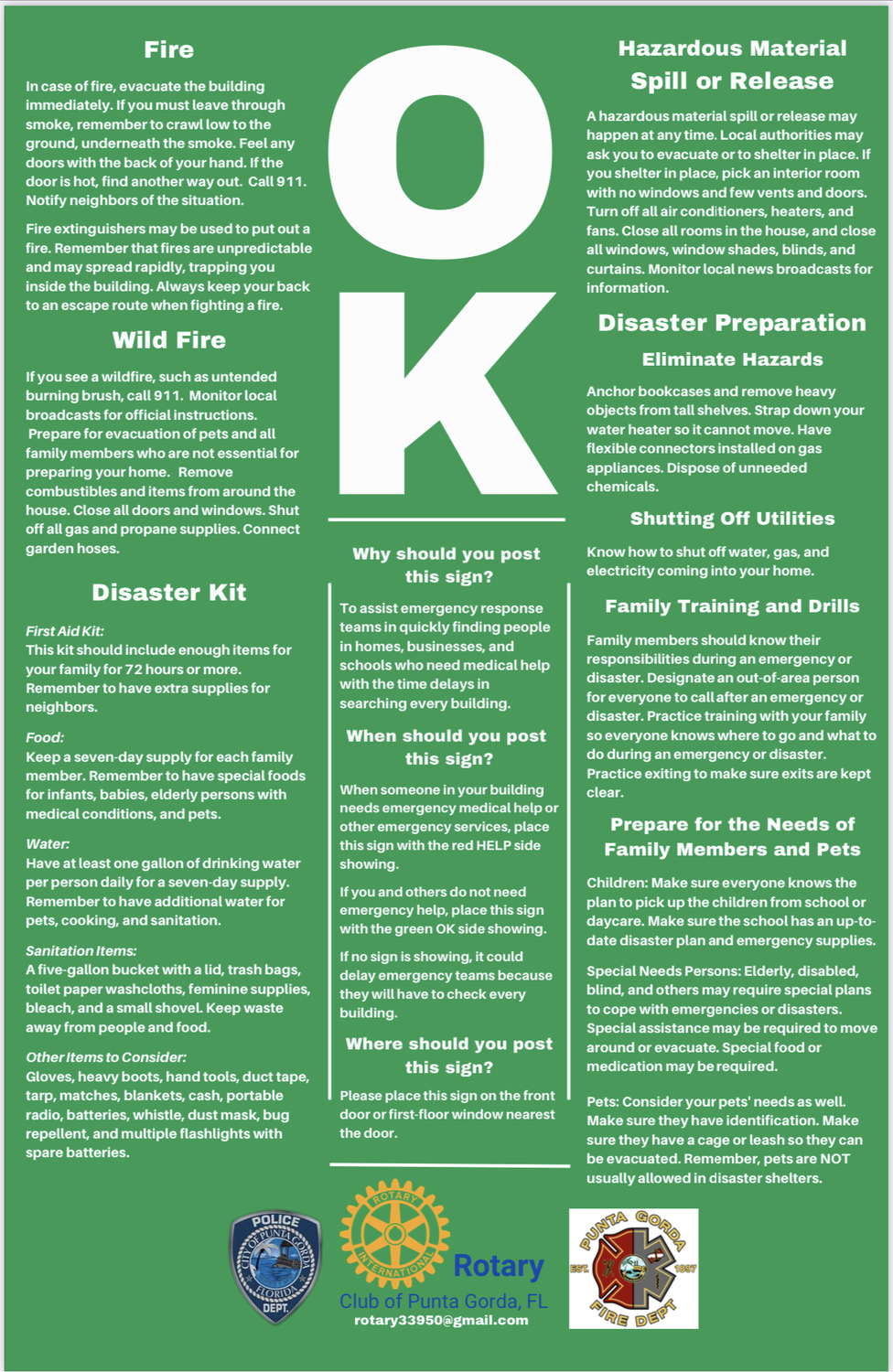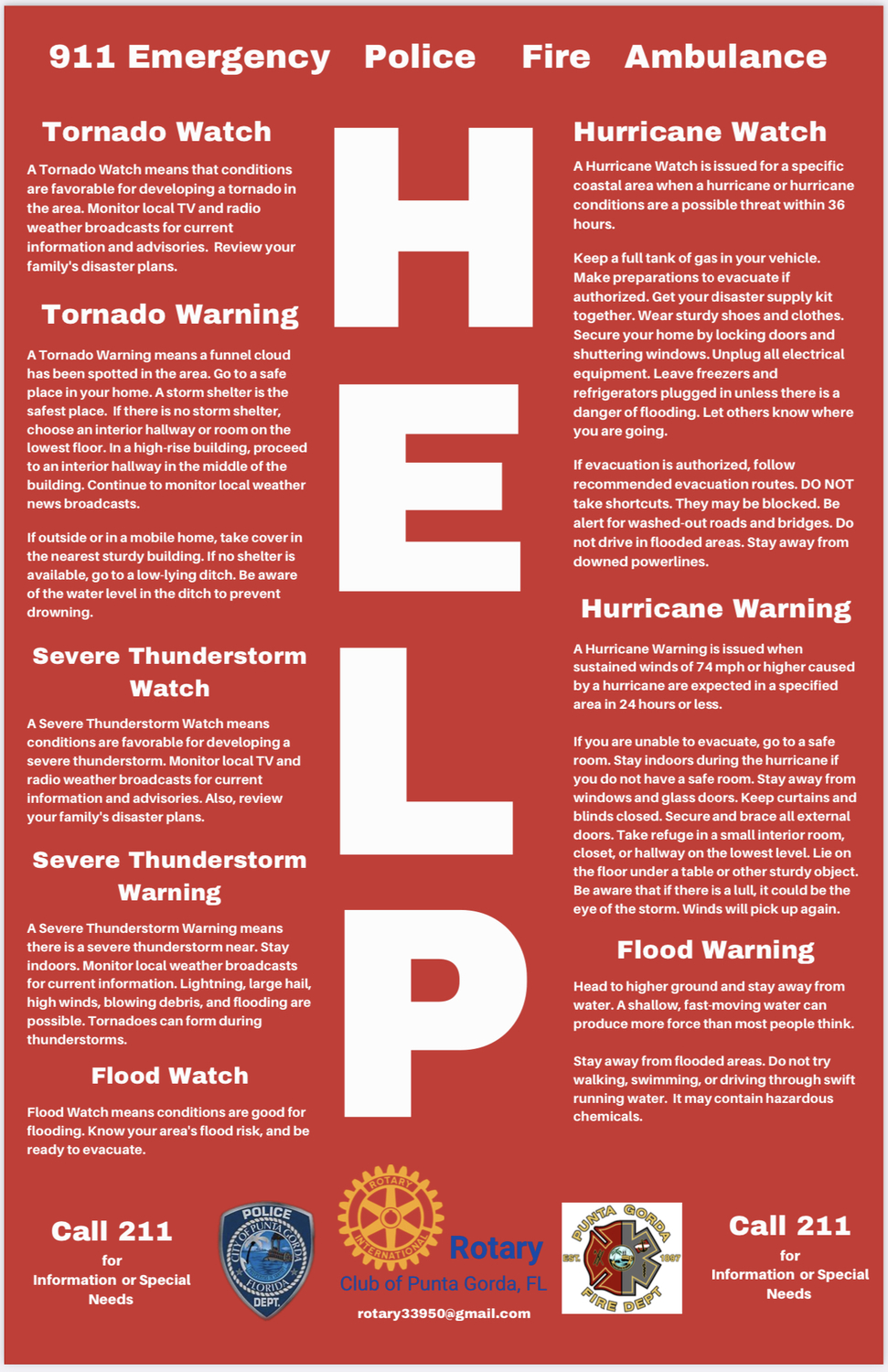 ---
Sunday, September 3, 2023 7:00 AM
Michael J. Grant, Majority Leader, Florida House of Representatives, Endorses the Re-election of Mark Kuharski for Punta Gorda City Council
Dear Fellow Citizens of Punta Gorda,
As your Representative at the Florida State House, I have had the privilege of working with many outstanding individuals from our community. Today, I write to express my wholehearted endorsement for a candidate who has consistently stood out among them - Mark Kuharski.
Throughout his tenure Mark has demonstrated an unwavering commitment to serving the city and its citizens. His dedication to the betterment of Punta Gorda is evident in his efforts to improve water access, protect our waterways, and implement smart strategies for responsible growth that will benefit both current and future residents. Mark's integrity is beyond reproach, and his charisma has a magnetic effect that inspires those around him.
I firmly believe that there is no one better suited to work on behalf of the citizens of Punta Gorda than Mark Kuharski. His vision for the city's future and his genuine concern for its well-being make him an ideal candidate for City Council.
Therefore, it is with much enthusiasm that I endorse the re-election of Mark Kuharski for City Council
Representative Michael J. Grant District 75. Majority Leader
---
Friday, August 18, 2023 8:22 AM
International Association of Fire Fighters Endorses Kuharski
International Association of Fire Fighters Local 2546 endorses Mark Kuharski!
"My family and I were fortunate enough to have ridden out Hurricane Ian with Punta Gorda's first responders at the city water plant. I've seen first hand how dedicated the PGFD is in protecting and serving the residents of our wonderful city. I'm honored to accept the endorsement of the International Association of Firefighters." -Mark Kuharski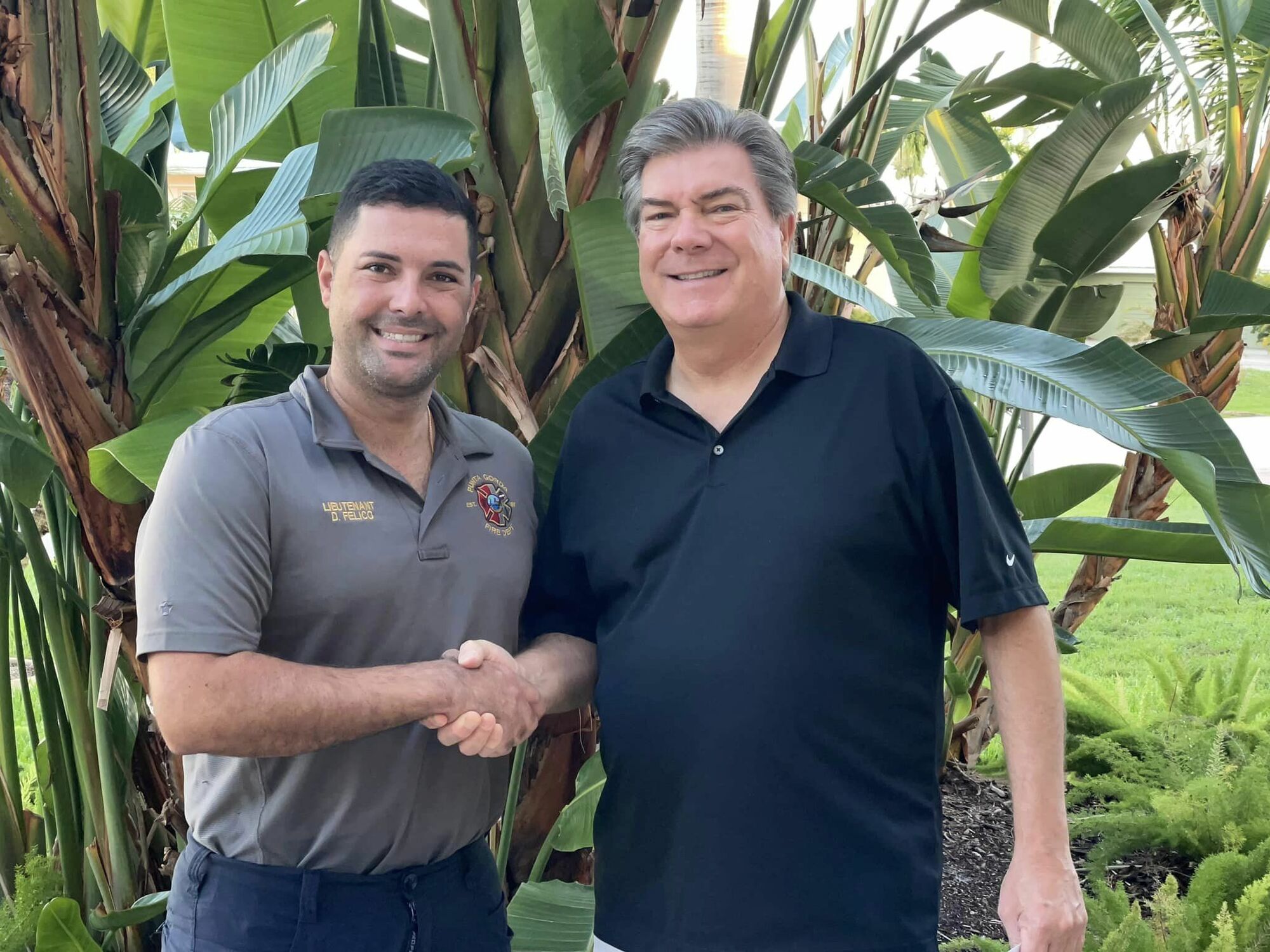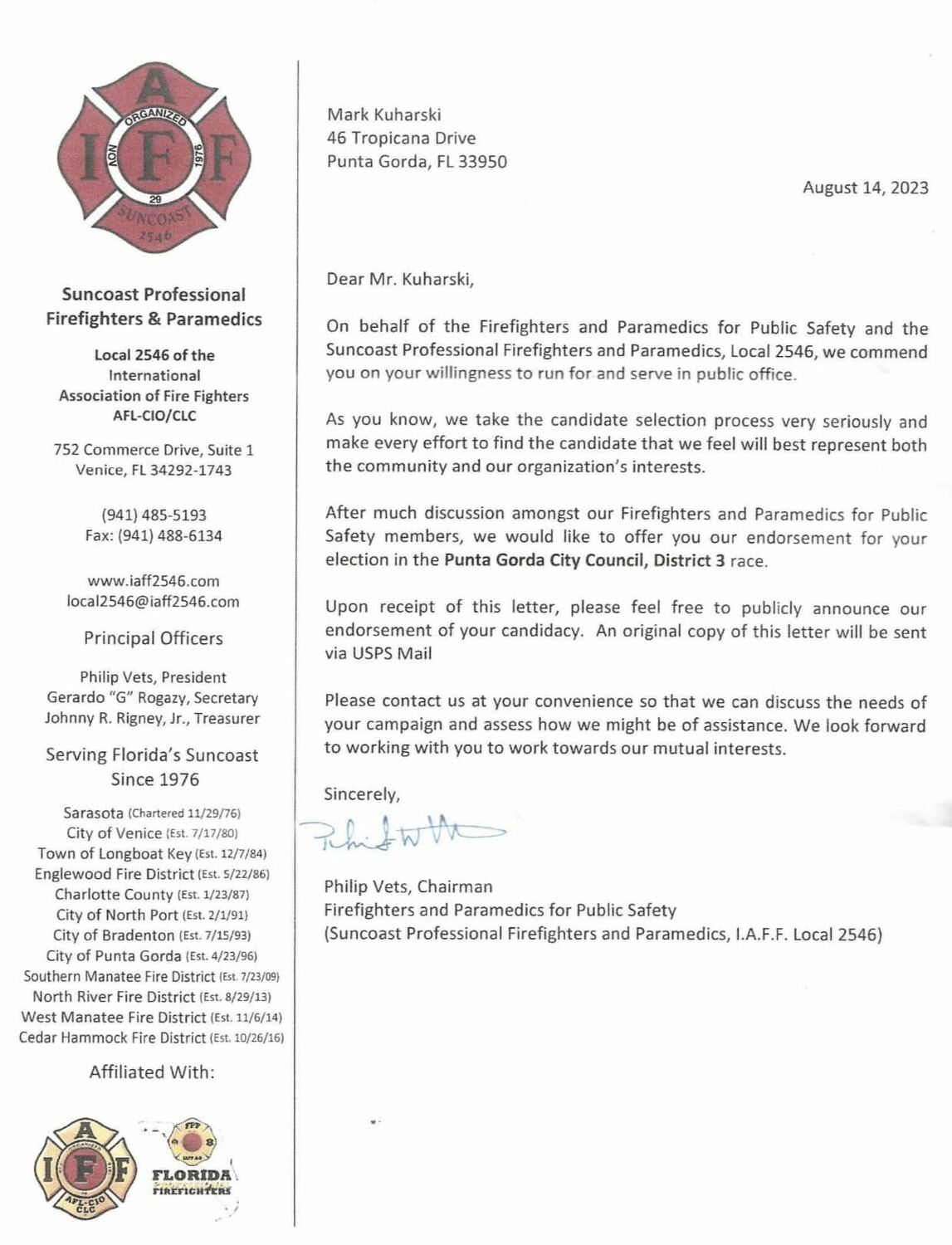 ---
Thursday, August 10, 2023 6:39 PM
Kuharski speaks at Peace River Forum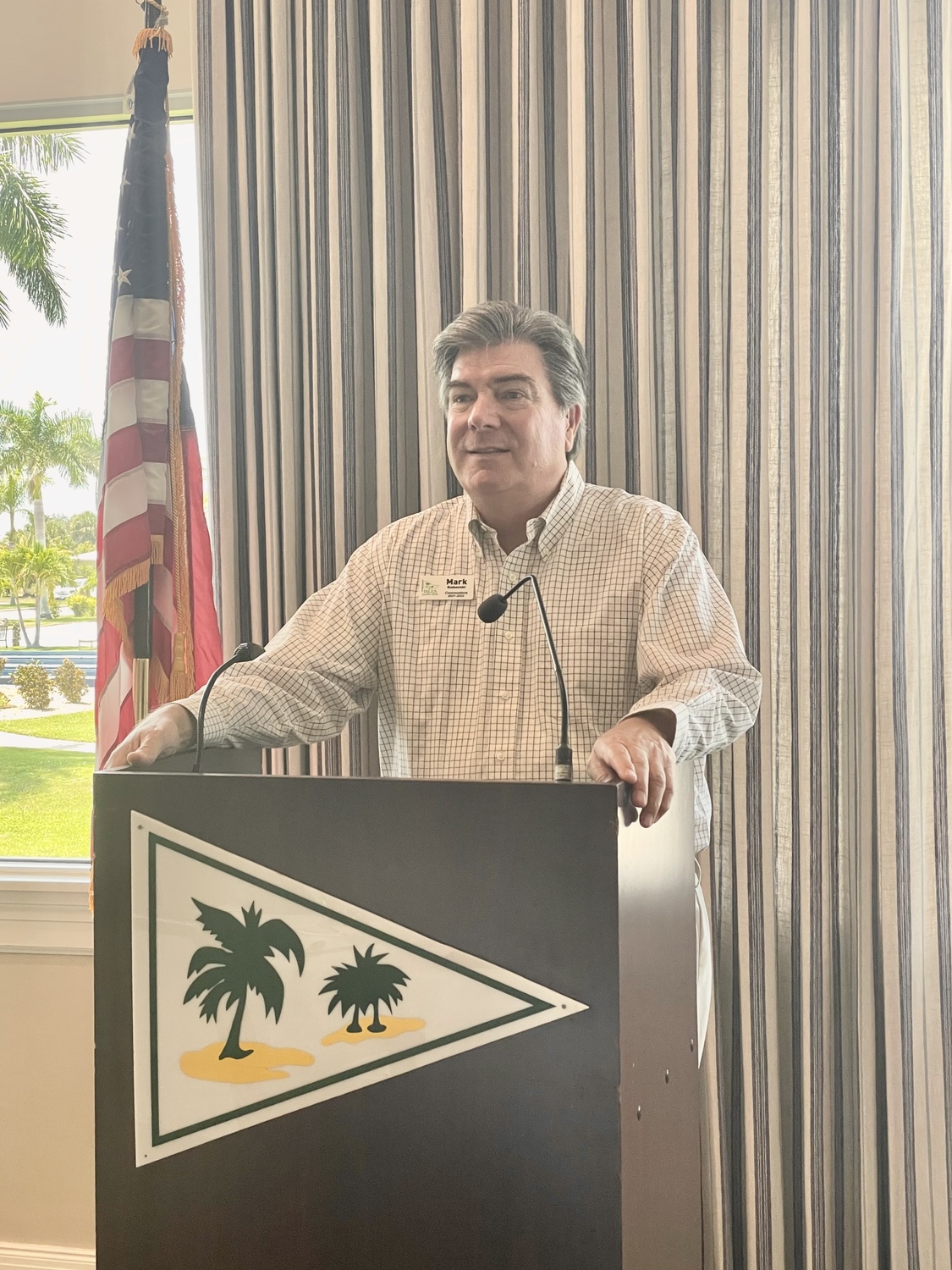 .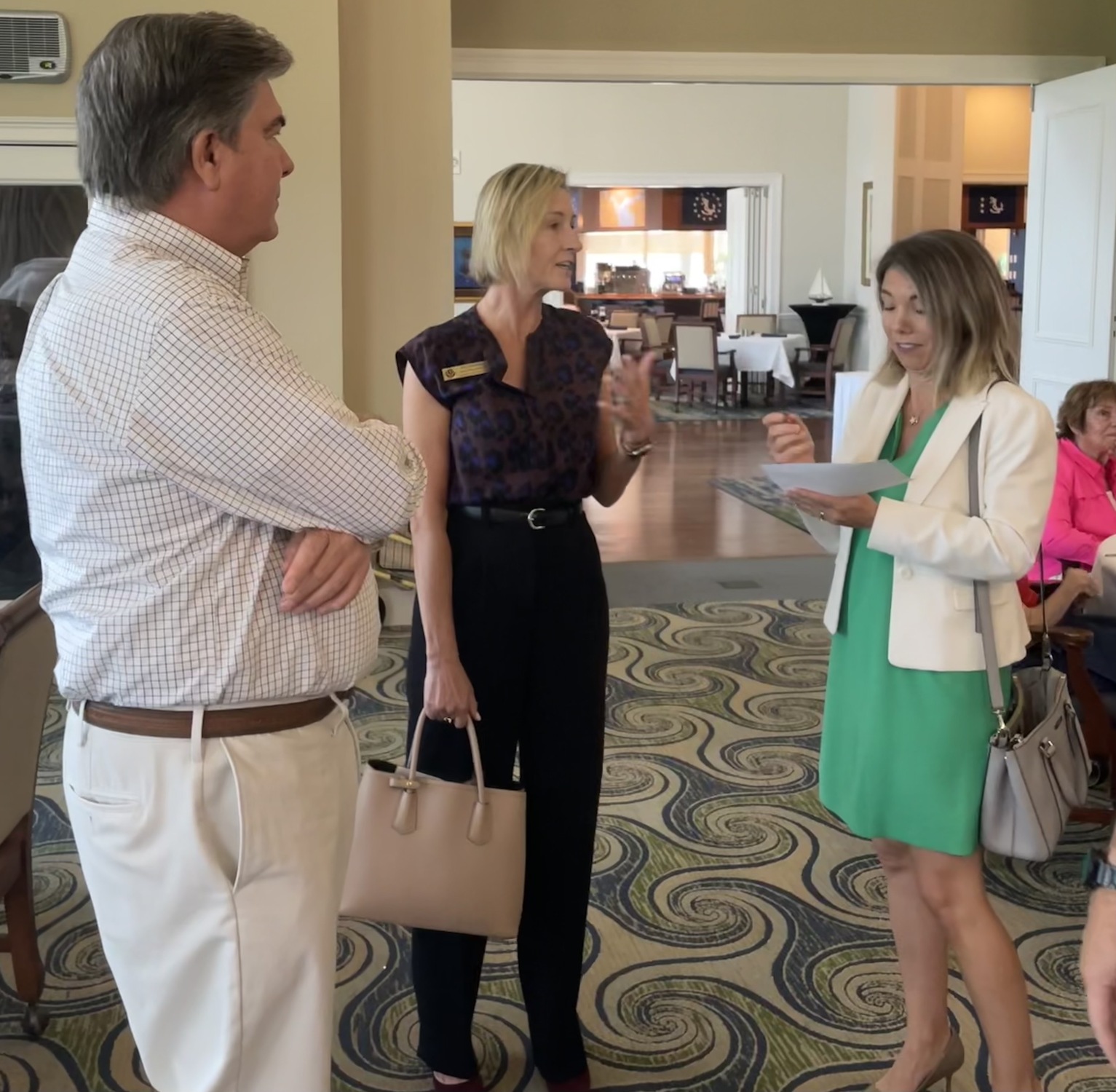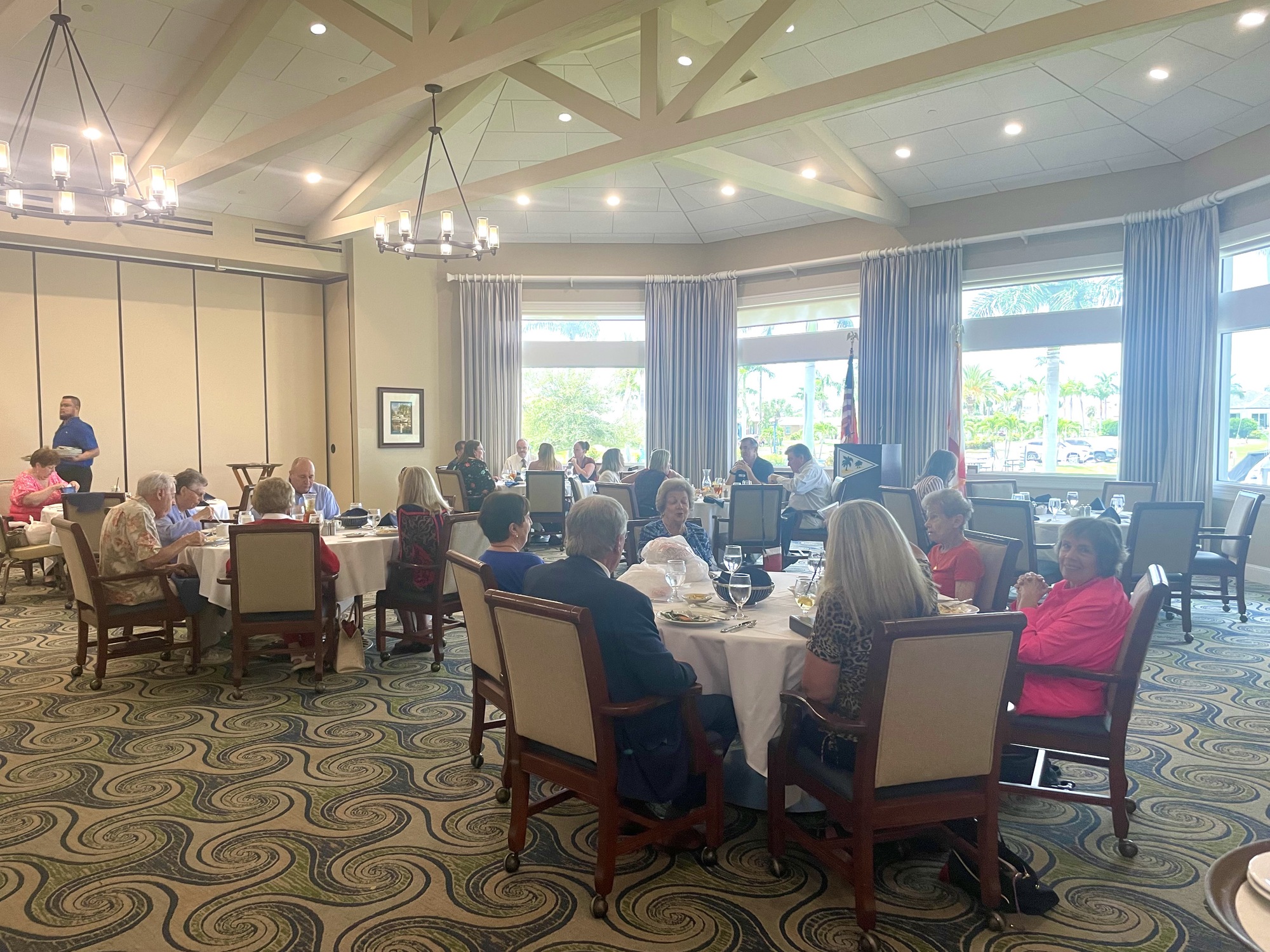 Thank you to the Peace River Forum for giving Mark the opportunity to speak about his vision for our beautiful city! A vote for Mark is a vote for the prosperity of Punta Gorda!
---
Thursday, August 3, 2023 9:46 AM
Water quality in Punta Gorda Canals
Mark believes Punta Gorda should become familiar with and support the efforts of Charlotte County and other organizations focused on water quality. We must raise awareness of the importance of water quality and its impact on Charlotte Harbor's ecosystem.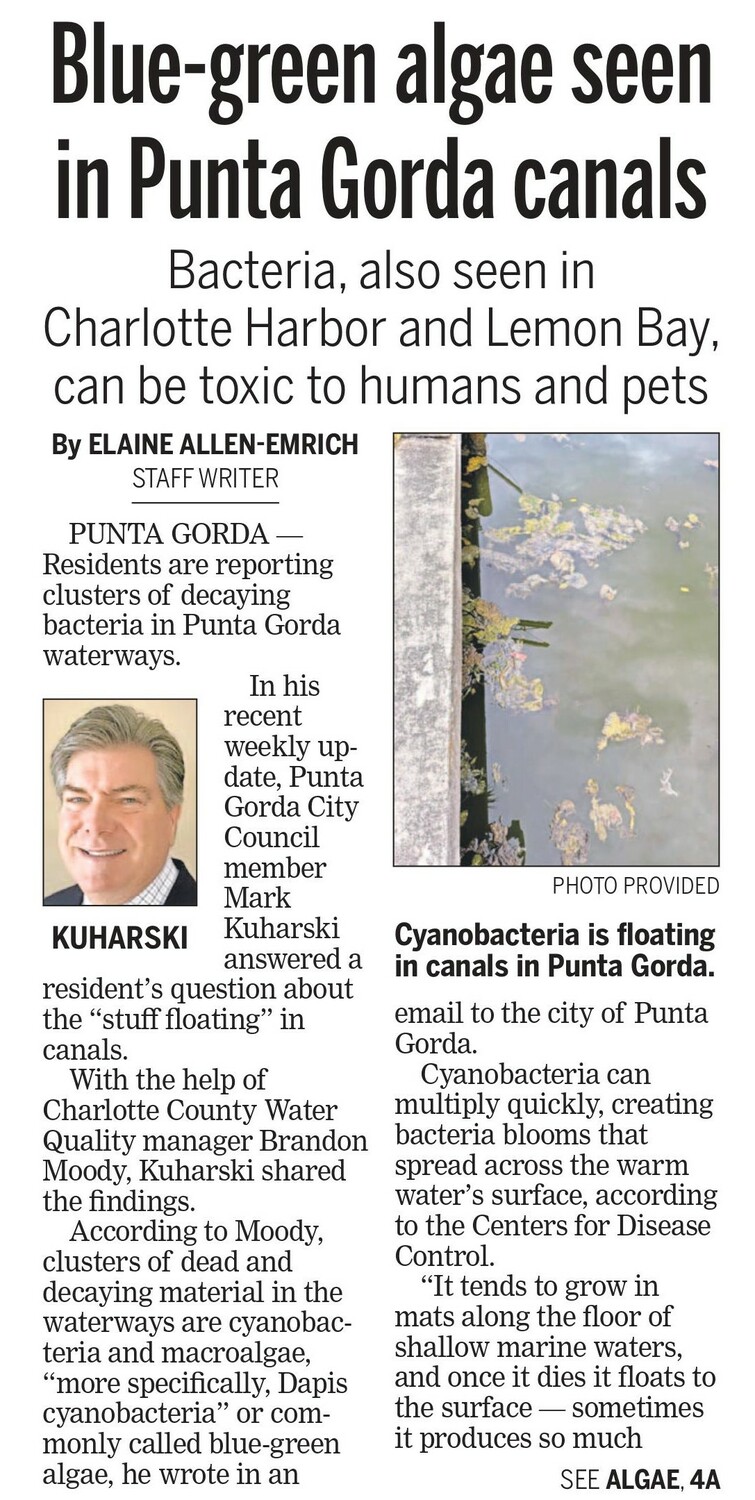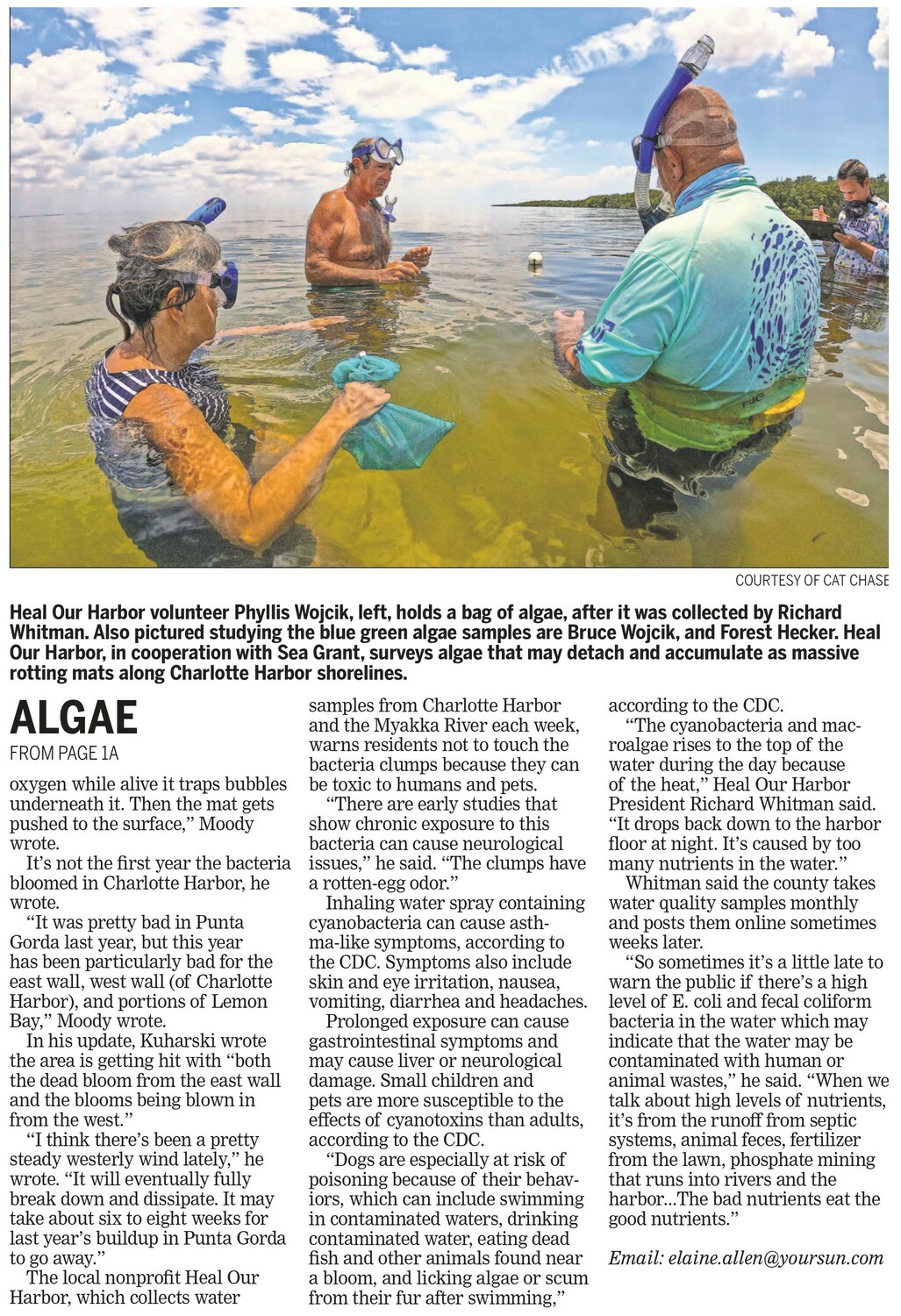 ---
Sunday, July 30, 2023 9:02 AM
Daily Sun: 19 Years and City Marketplace Still Barren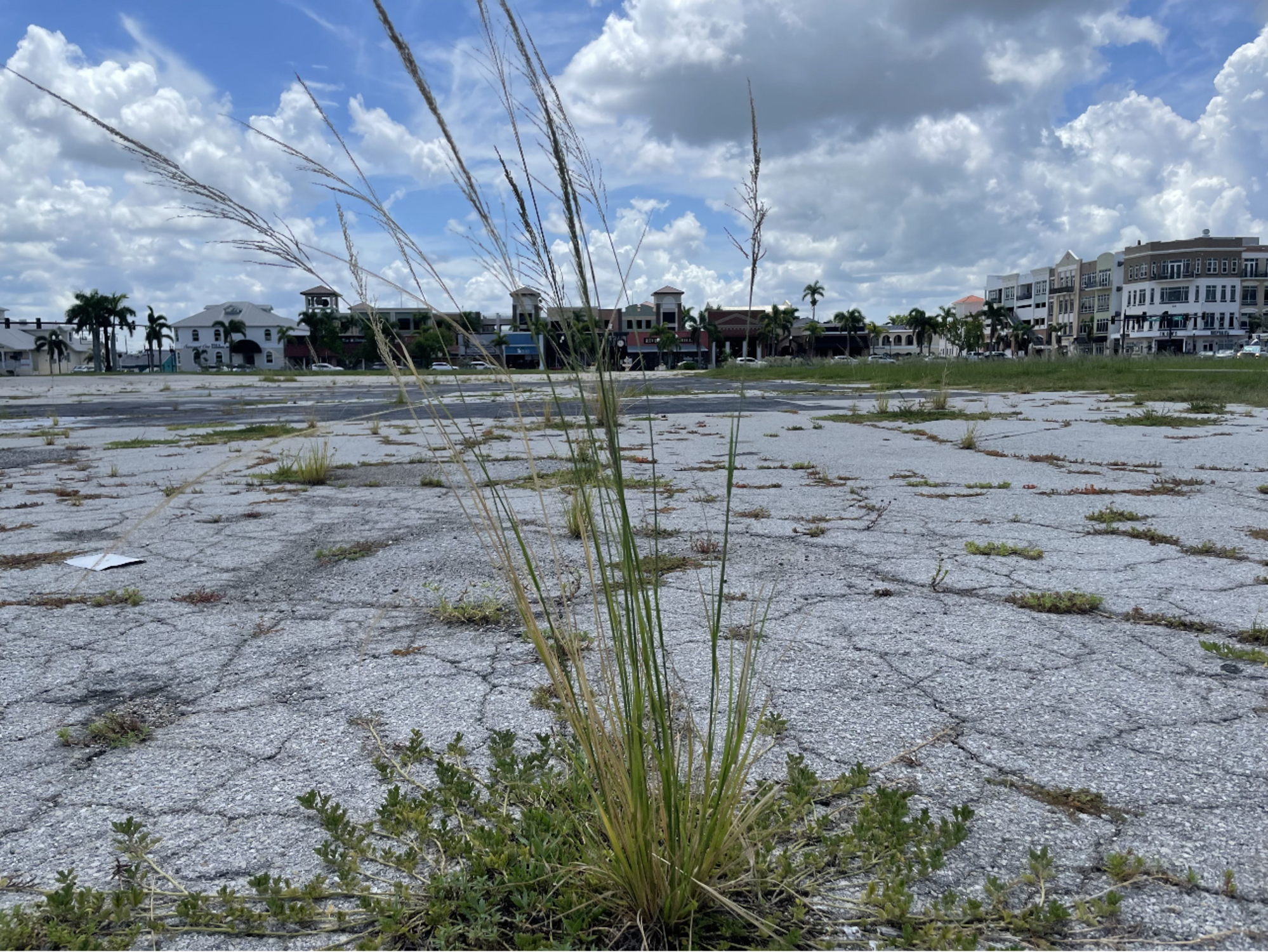 ---
Tuesday, July 25, 2023 8:00 PM
Mark Kuharski Kicks Off Campaign at Laishley's Crab House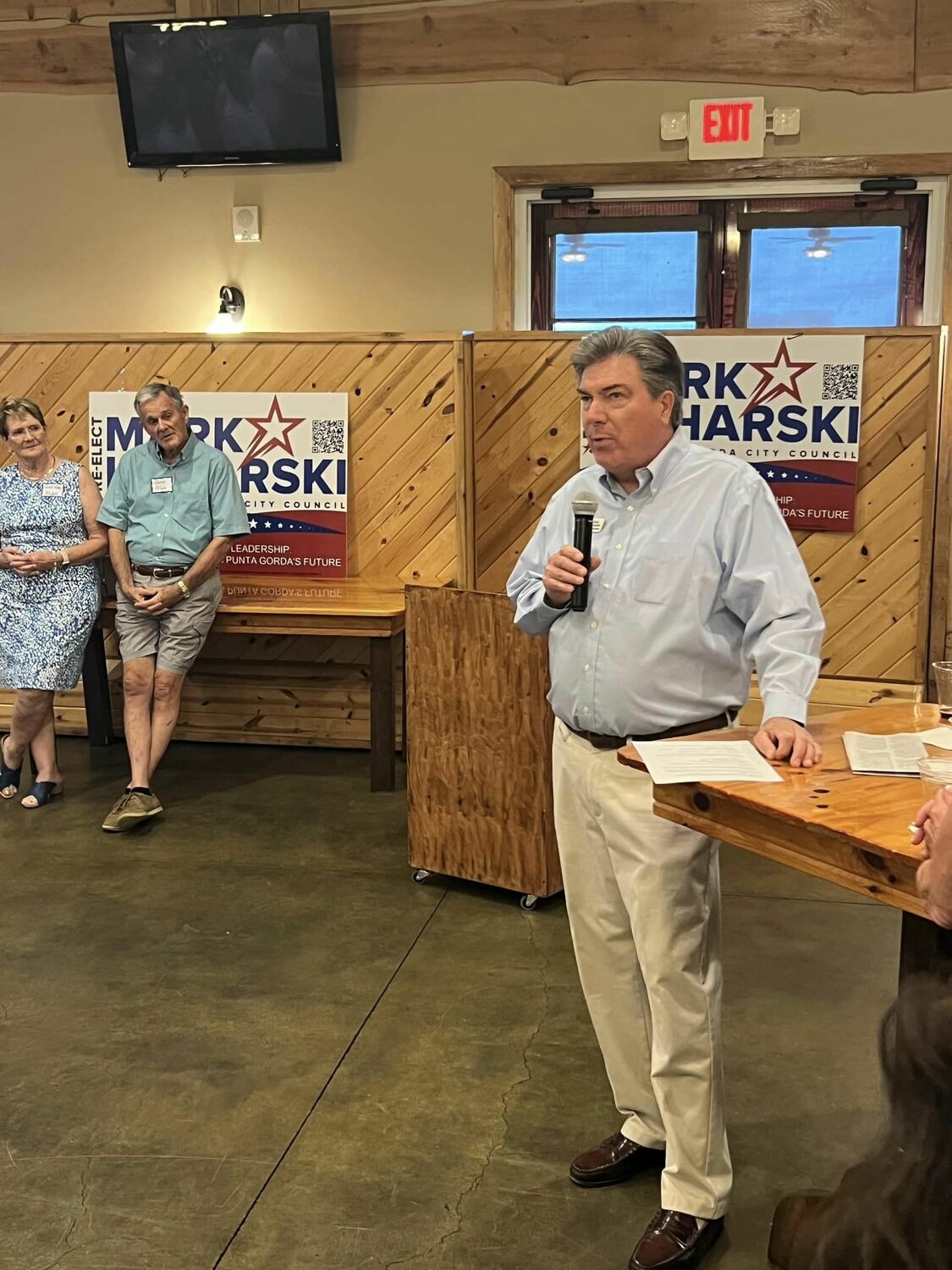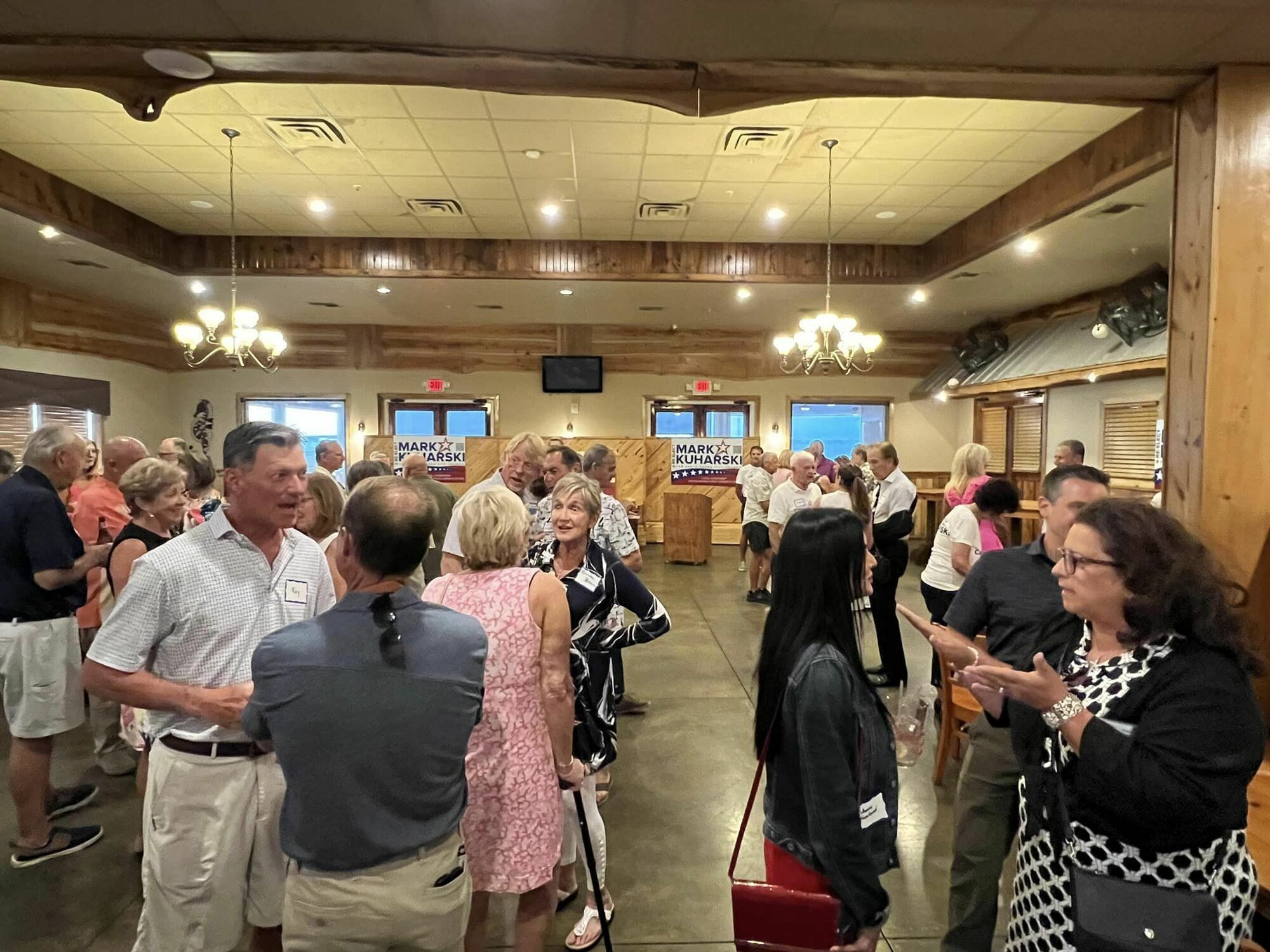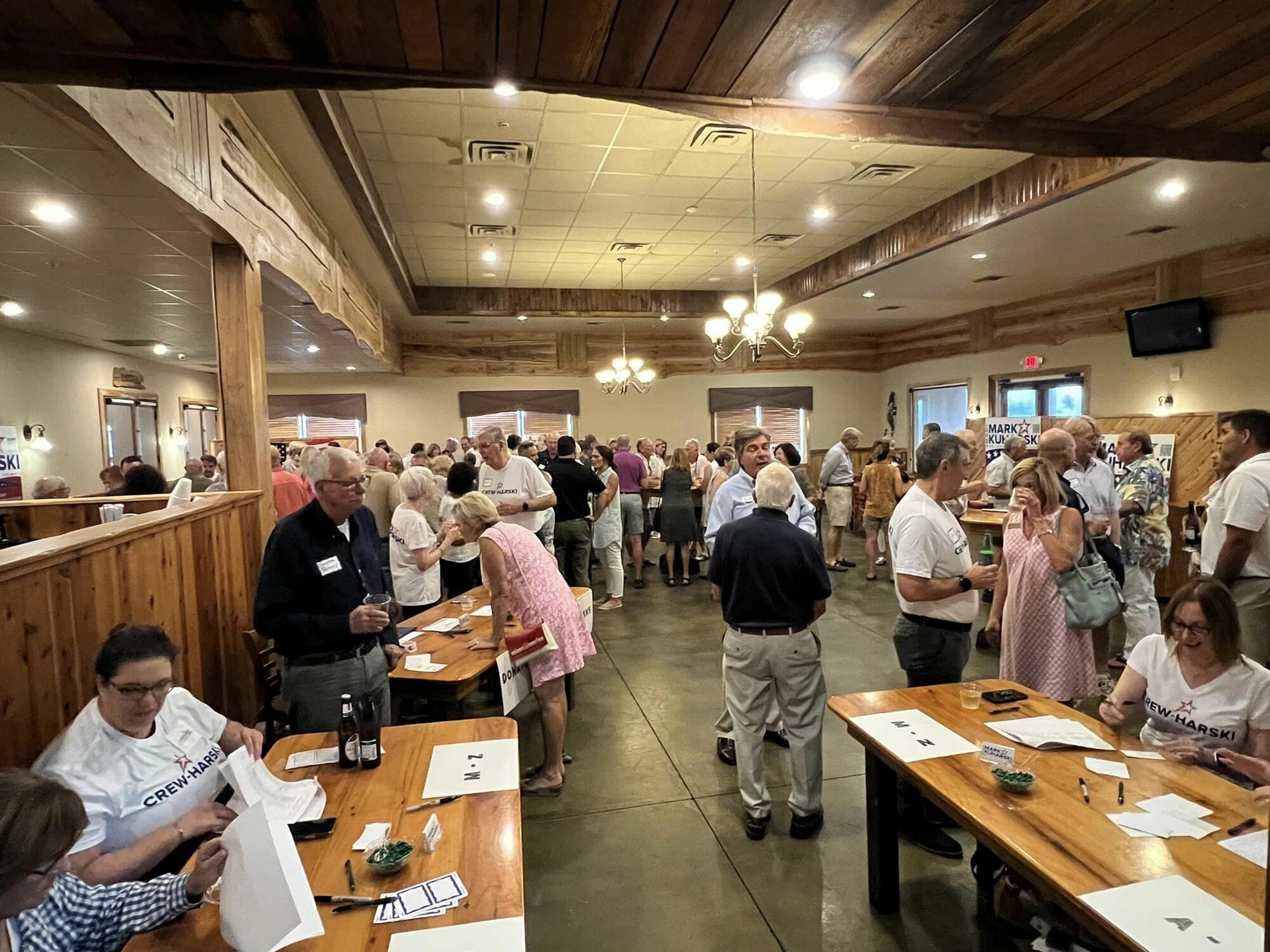 Thank you, Punta Gorda, for all the support at the July 25th campaign kickoff! It was great to see so many people supporting Mark's campaign. A special thank you to the evening sponsors, Bruce Laishley and Shaune Freeland! Please remember to vote on election day, November 7! Mark is looking forward to continue representing your interests. Let's continue the journey together!
---
Monday, July 17, 2023 3:00 PM
Kuharski Campaign Signs Available!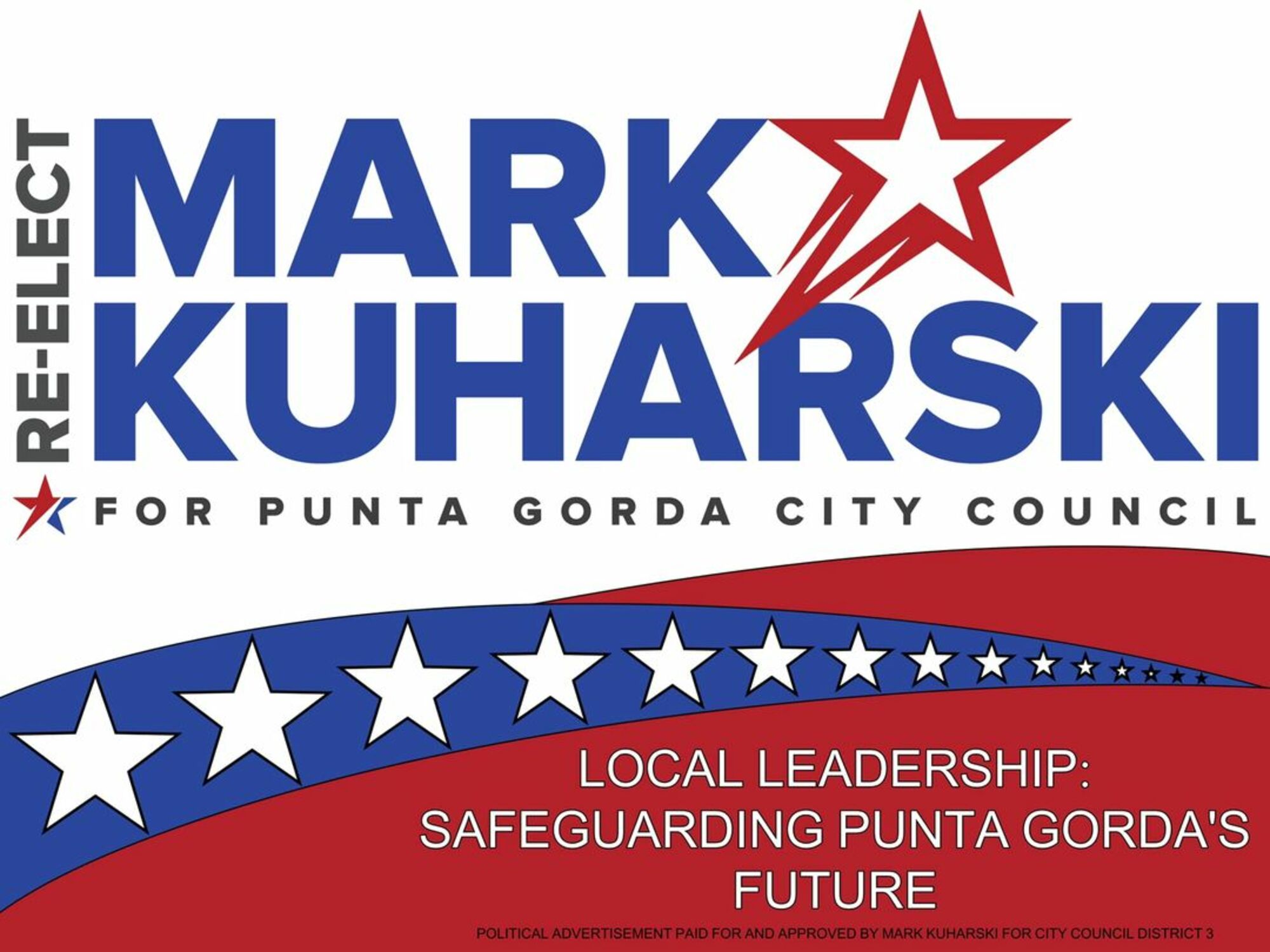 Punta Gorda residents! As the upcoming city council elections approach, it's crucial that we rally together to ensure a prosperous future for our community. Everyone in all the city districts can vote in November! If you are interested in a campaign sign, please email Garrett at ggeiger137@gmail.com or call 941-637-8997. Let's come together and proudly display our support for Mark Kuharski for Punta Gorda City Council!
---
Thursday, July 13, 2023 8:00 PM
New Operation Cooper Street Celebrates 1 Year Anniversary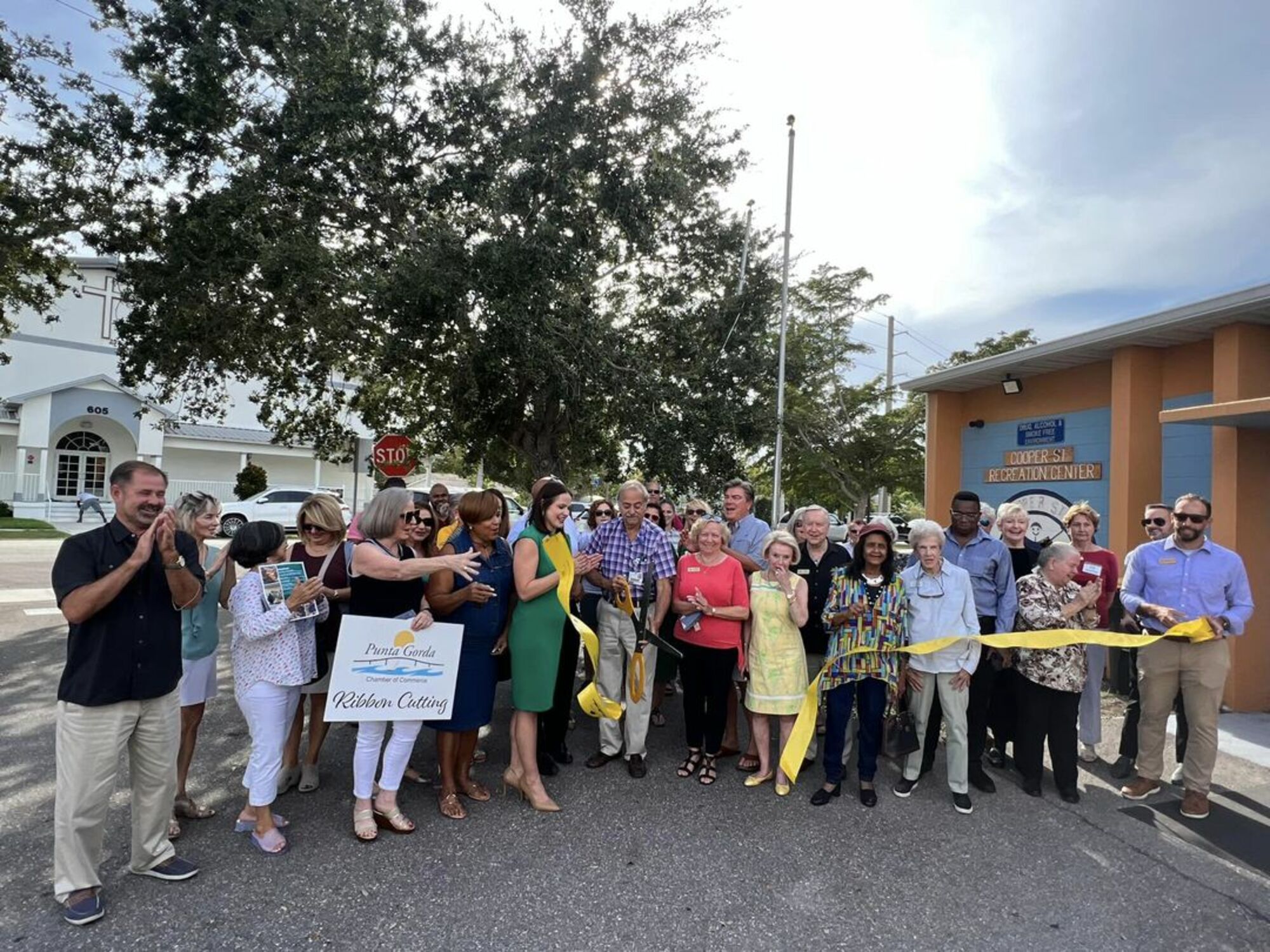 Congratulations to New Operation Cooper Street on their 1 year anniversary! It is such an asset in our community and we are all thankful for their presence in Punta Gorda! If you are interested in their work, please visit their website.
www.cooperstreetrec.org
---
Wednesday, July 12, 2023 8:00 PM
Peace River Wildlife Center Breaks Ground On West Henry St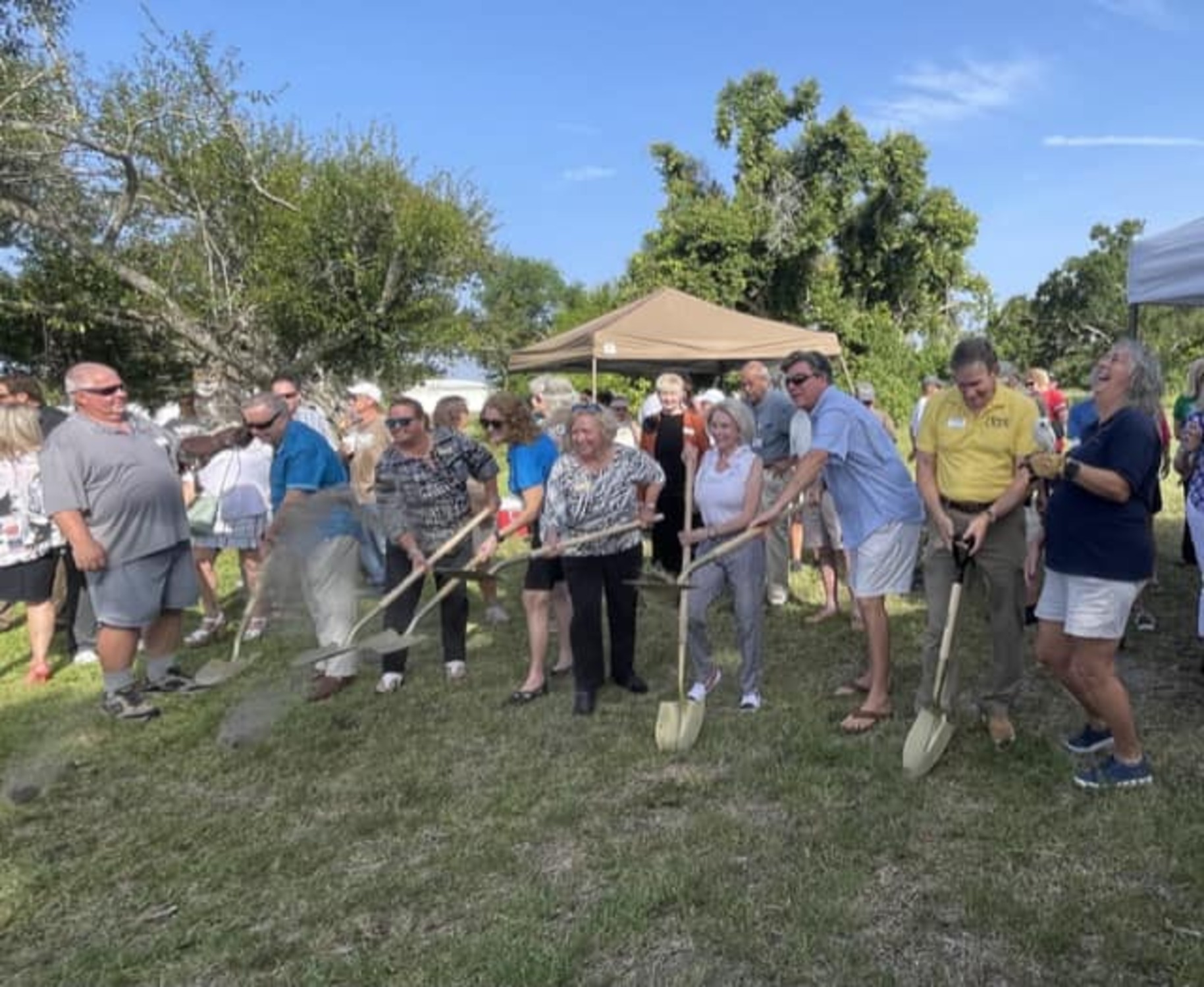 Mark attended the groundbreaking for the new construction of the Peace River Wildlife Center on West Henry St. We are excited to have them in a great location and look forward to what they will continue to contribute to the city and the Southwest Florida region!
---
Monday, July 3, 2023 12:14 PM
Mark's Commentary on Water Quality
By Mark Kuharski
The quality of our local waters is vital to our city's interests. We all need to be aware of the health of our harbor and canal system, and we must be active in safeguarding it.
The health of Charlotte Harbor, our canal system and the local waters is critical to the lifestyle we enjoy. Our waterfront environment is why we are here. Unfortunately, the city only has a small impact on the condition of our water. Protecting water quality in Charlotte Harbor requires a concerted effort from various stakeholders, including government agencies, community organizations, businesses, and individuals. I believe the city should play an active and visible part in protecting our most valuable resource, and here are some ways in which we can do this:
Partnership. I believe we should become familiar with and support the efforts of Charlotte County and other organizations focused on water quality. I don't believe we should be sitting on the sidelines of this effort. The quality of our local waters is too important for us to not be actively involved.
Water Quality Monitoring. We've been told the harbor's water quality is impaired. However, without having a way to assess it, we don't really know what we're dealing with. As a city we should pursue water quality monitoring programs to understand the status of our water quality and to determine measures that can be taken to protect our harbor estuary and canal system.
Educate the community. We must raise awareness of the importance of water quality and its impact on Charlotte Harbor's ecosystem. I will support actions that inform residents, students and businesses about water conservation, pollution prevention and responsible water use. I believe this is a continuing requirement.
---
Tuesday, June 27, 2023 3:53 PM
Punta Gorda Chamber of Commerce Sends Letter of Appreciation to Kuharski
On behalf of the Board of Directors of the Punta Gorda Chamber, I wanted to take this opportunity to thank you for listening to our input over the past weeks (and months) with regard to local LDRs in our city. We are thankful for your unanimous vote in the first round at last week's council meeting. We truly feel the steps taken will encourage developers to relook at vacant lots in our core downtown area, that will help to revitalize commercial activity we have to offer, without distracting from the appeal of our small city charm.
We know these decisions are never easy to make in our community, but your courage and leadership have not gone unnoticed by this group.

We are always here to advise and support wherever we can.

John R. Wright
President
Punta Gorda Chamber of Commerce
---
Saturday, June 24, 2023 10:44 AM
Mark's Commentary on Short Term Rental Regulation
By Mark Kuharski

One of the most frequent issues Punta Gorda residents bring to my attention concern short term rentals not being good neighbors; noise late into the night; cars, boats, and trailers parked all over the property; trash; overcrowding; security is a major concern. Who knows who their neighbors are week to week, even day to day? The list goes on and on.
No one moved to Punta Gorda to live next to a motel, yet that's what's happening thanks to Tallahassee. In 2011 the State Legislature passed a law that severely limits the ability of local governments to regulate short term rentals. They later amended that law to further restrict local governments.
Municipalities are still able to pass and enforce codes that are applicable to all residents but I don't consider anything a good solution when it turns neighbor against neighbor in an escalating war of reporting code violations. Local ordinances specific to short-term rentals in effect prior to this law can still be enforced. But the short term rental industry has expanded dramatically in recent years into neighborhoods that never thought they'd be in the crosshairs. And now that they are Tallahassee says it's too late for them to do anything about it.
That doesn't set well with me. I am very protective of my neighbors and my city. So I rallied my resources looking for an acceptable solution. I've learned that while the law does not allow local governments to ban short-term rentals entirely or regulate the length of stays or their frequency, local governments may pass rules to control negative effects of short term rentals.
Several counties including Collier, St. Johns, and Miami Beach have all recently passed ordinances aimed at controlling the effects of short term rentals. The ordinance in Miami Beach has even been tested in court and the majority of it was upheld. I've tasked the Punta Gorda City Attorney to allocate resources to prepare a draft ordinance to be discussed at a future council meeting.
Don't get me wrong. Not all short term rentals are bad. In fact they pay business taxes in addition to property taxes which helps keep all of our tax bills in check. The vast majority are good neighbors, but if you live next to a bad one, there's not much you can do. I plan to get that changed.
We are going to put neighborly back into our neighborhoods. All of them.
---
Wednesday, June 21, 2023 5:00 PM
The Punta Gorda City Council Unanimously Recommended Changes to LDRs
City Councilmembers took a significant step forward in determining the future rules for development within the City of Punta Gorda as they reached a consensus to provide staff with direction to draft the final Land Development Regulations. The City Council is in unanimous agreement that the old policy of no height limits on buildings was unacceptable. The city is well on the way to approving standards that not only protect the character and charm of our city - they also will make Tallahassee's Live Local affordable housing projects much less likely to invade our community.
The outcomes of the discussion include:
• Building Heights: 80 feet above Base Flood Elevation plus freeboard
• Dwelling Units: 60 density units
• Public Open Space:
Caveat for hotel exemption from public open space.
Change in verbiage from public open space to public space depending on size
• Parking
Downtown Core (lots under 20,000 sq. ft.)
Parking requirements for office and retail one space per 1,000 square feet
Additional discussions will occur regarding the rooftop accouterment definition and allowances, the Waterfront Overlay District, and potential marina contributions. The final regulations will include green space requirements, architectural standards, and landscape plans. The City Council remains committed to preserving and enhancing Punta Gorda's identity as a vibrant waterfront community, unique in character and history, and as a desirable place to live, work and visit
---
Friday, June 16, 2023 5:00 PM
Johnson Taylor Funeral Home Groundbreaking
It has been a long hard road since Hurricane Ian. Mark offers his help to Eric Johnson of the Johnson Taylor Funeral Home at their groundbreaking ceremony.
---
Wednesday, June 14, 2023 12:00 PM
Kuharski Qualifies!
Dozens turn out in a strong show of support to sign the petition to qualify Mark to be on the November 7, 2023 ballot.
---
Sunday, June 11, 2023 5:00 PM
New Communications Director
Mark is pleased to announce that Isaac James has joined the Committee as Communications Director. Isaac is an accomplished classical pianist with demonstrated marketing and communication expertise. You will see his impact on the campaign shortly!
---
Friday, June 9, 2023 1:00 PM
New Campaign Manager
Mark is pleased to announce that Eric Loche has agreed to serve as Campaign Manager for the Committee to Re-Elect Mark Kuharski. Eric has been involved in several countywide campaigns and is already having a very positive impact.